Welcome!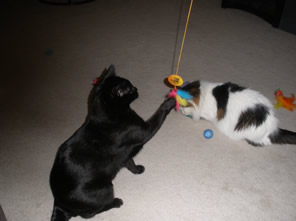 Thank you for visiting Lucky to be at Home Pet Care, LLC. We provide loving, friendly and reliable in-home care for you and your family of pets, giving you peace of mind when you are not home. We understand that choosing the right person to care for your pet(s) is an important decision and we take our assignments very seriously. While you are away, "your pets are our pets" and each and every visit will include love, affection and attention. We promise to care for your precious pets as if they were our own. We are insured and bonded for your protection. We are also trained in an 8-hour First Aid & CPR course, sponsored by Pet Tech, the first international training center for dogs and cats. We are members of Pet Sitters International and Pet Sit USA. We are committed to excellence in pet sitting and pet care with high quality standards and service. Our standards for pet sitters are the same we would expect for ourselves. Pet sitters must adore animals and be kind, caring, honest, affectionate, loving, reliable and 100% dependable. You can leave home knowing that your pets are in the capable hands of a trusted professional, because our top priority is the well-being of your pets, your home, and your peace of mind! When you are not around…we will keep them safe & sound.
When you go out of town and you can't take them with you, let them stay in the comfortable, familiar surroundings of their own home, where they are safe and secure, which offers a stress-free experience for both you and your pet(s). If you had a choice of staying home or going to a strange, unfamiliar place, you too would want to stay at home. When pets stay at their own home, the only thing that changes is that their owners are not there for a few days. When they go to a kennel, not only are they separated from their owners, but they also may not understand where they are and can be traumatized by the whole experience. With Lucky to be at Home Pet Care, LLC, your pets can now sleep in their own beds, in their own house, eat from their own bowls, play with their own toys, play in their own yard and stay on their own schedule. While you are away, we will also take care of your plants and house, and any other assistance you may need.

Our pets bring so much to our daily lives, yours would be lucky to be at home. We offer a variety of services for pets AND humans as follows:

| | | |
| --- | --- | --- |
| | In-Home Pet Care Needs: | In-home pet sitting when you are on vacation or out of town. |
| | Daily Commuter Services: | Daily visits for those who commute to and from work or those with busy schedules. This can include daily dog walking, drop by visits to administer medications/sub-q fluids, or provide a quick potty break. |
| | Pet Transportation Service: | Safe and reliable transportation for your pet to their required destination. |
| | Home Safety Checks | We can provide home safety checks for those who don't have animals, including watering plants/lawns and alternating lights and blinds to give your home a occupied appearance. |
We serve Kyle, Buda, portions of Driftwood and portions of San Marcos. We look forward to hearing from you and for the opportunity to assist you with your needs. "Contact Us" for a quote today. We currently care for dogs, cats, rabbits, birds, chickens, fish, ferrets, gerbils, hamsters, frogs, horses, cows, goats and most small animals.

About Us:
Before starting Lucky to be at Home Pet Care, LLC, Katherine Murphy-Nowaski (commonly known by her friends as "Murphy"), was a Legal Assistant for over 26 years; however, she wanted to do something different with her life. Because of her years in the legal community, she is dependable, trustworthy, loyal and confidential. Like most people in the animal profession, Murphy has always loved animals and has been a pet owner all her life. Her pets have always been members of the family. Even friends' pets are considered part of her family. She has provided pet care for her friends & family for years and she now offers that same love, care and devotion to you and your family of pets. Murphy LOVES her new venture in life. Lucky to be at Home Pet Care, LLC is not just her business, but her life-long passion.

Some of Murphy's more "than normal" pets have included care for: Chickens, a Shetland pony, a pot bellied pig and a Dwarf Nigerian milk goat. (Yes, when she sits for the goat, she milks it twice a day!)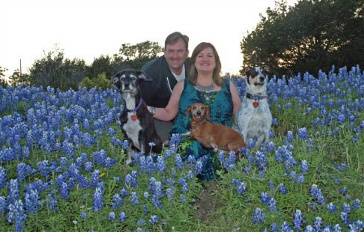 Murphy and her husband Michael are currently owned by: Mishka (17 yr old Border/Aussie), Zina a/k/a The Red Rocket (12 yr old retired racing Dachshund), Sasha (3 yr old Pointer mix) and an aquarium of fish. They survived the loss of their two cats, 18 yr old Kazera and 14 yr old Alley. And in 2011, they lost Shorty (their beloved, talking, 20+ yr old cockatiel). They understand, first hand, the needs of pet owners when trying to go out of town. It's hard with one or two animals, but especially challenging when you have a variety of pets. Like most pet owners, Murphy & Michael love and care for their pets as they would for human children. They would not trust just anyone to care for their pets. Since their pets have lived so long, they also understand the needs of geriatric pets. Review out what some of their clients are saying on the Testimonials page. Murphy and Michael only want the best for their pets; which is why Murphy established Lucky to be at Home Pet Care, LLC. They continue to enhance their knowledge, experience and education of animals of all kinds.